Traveling Lantern invites you to join us for Ruckus in the Lobby, performing Sunday mornings at 11:00am in the Alder Lobby at Artists Repertory Theatre.
Traveling Lantern shows are fast-paced, funny and interactive, and encourage audience participation. They are appropriate for K-6th grade aged children and their families.
Shows are performed by 2 actors, and last about 45-50 minutes.
Tickets are just $5 (for patrons over 5 years old), and can be purchased at the door, online, or by calling 503-241-1278.
March 2nd: Greek Mythology
March 9th: The Caterpillar Hunter
March 16th: Bilbo's Journey
March 23rd: Greek Mythology
March 30th: The Caterpillar Hunter
April 6th: Johnny Appleseed
April 13th: Bilbo's Journey
April 20th: [Easter - no performance]
April 27th: Johnny Appleseed
May 4th: Greek Mythology
May 11th: Johnny Appleseed
May 18th: Bilbo's Journey
May 25th: Johnny Appleseed
The Caterpillar Hunter
A vegetable safari!
Based on the beloved character of the late Steve Irwin,
the Caterpillar Hunter shrinks himself and sets off to explore
the terrain, pursuing elusive bugs and strange herbage
in the wild recesses of a common North American
vegetable garden.

Crikey! Join in his exciting backyard adventure!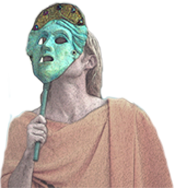 Greek Mythology
Stories of Gods and heroism from the ancient civilization
by the sea.
From their protected perch on Mount Olympus, the Gods
of ancient Greece wrap their magic and subterfuge around
the humans they choose to meddle with. Their manipulations influence the futures of the mortals who live far below them in a world bound by the realities of life and death. The important question of whether our choices can alter our fate is the eternal riddle of these fascinating and timeless myths.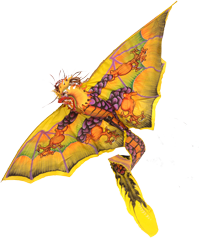 Bilbo's Journey
A grand story of peril, wonder and daring!
Children are sure to enjoy the cherished tale of a home-
loving little Hobbit who finds himself on an adventure he
could never have imagined!

On the way he meets elves, trolls, a wizard and a
dragon... and ssssomething ssstrange
called a Gollum.

This play is suitable for children of all ages!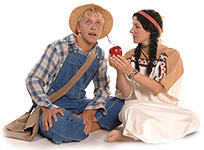 Johnny Appleseed
Planting apples and wisdom.
John Chapman, an early American naturalist, travels the newly- expanding nation learning from Native Americans, and spreading his growing knowledge to the pioneers. He plants both apple seeds and a love of nature wherever he goes. His lessons of environmental stewardship, conservation and sustainability are especially relevant to children today, as they learn to protect and respect the beauty of nature around them.