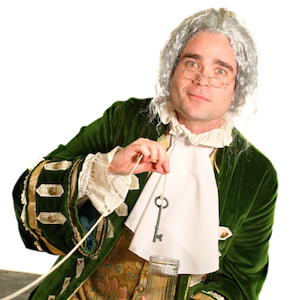 The Industrious Mr. Franklin
Lightning, Wit and Statesmanship!
Meet the intrepid inventor, quipping author, productive scientist, and founding father: Mr. Benjamin Franklin.

You'll travel with him, meet his friends, help him in is work and learn all about the courageous and diligent man who tamed electricity with a kite and a key.

This new play is a fascinating and humorous romp with one of America's most endearing historical characters.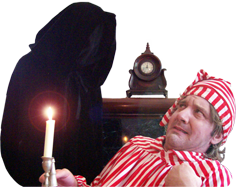 A Christmas Carol
The Classic tale of a miser's redemption.
Ebenezer Scrooge is a nasty, mean, snarling old geezer
with no care for anything other than his money. His
one and only friend visits him as a ghost, and starts
him on a journey that melts his icy heart and teaches
him the joys of caring for, and giving to others.
Sherlock Holmes Takes the Case
Solve a mystery with the world's most famous detective!
Something's amiss, and now "the game's afoot!" for the
brilliant scientist and criminologist, Mr. Sherlock Holmes.

Along with his trusted companion, Dr. Watson (played
by a child volunteer), Holmes will follow the clues and
solve the mystery with audience's help.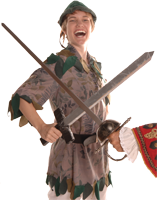 Peter Pan
The treasured tale of an adventurous boy who
never grows up!
Fly away with the Darling children to Neverland, where Peter
battles with a band of pirates and his arch enemy: the
villainous Captain Hook.

Peter is a daring, courageous andmischievous boy - an
incurable prankster with a valiant heart.

This ageless story of love and bravery is one of our most
popular shows.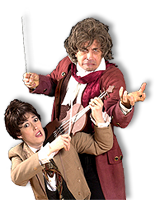 The Life of Beethoven
Genius and dedication overcome disability in the true story of this composer's life.
One of the greatest composers of all time, Ludwig Von Beethoven wrote his greatest masterpiece, the 9th Symphony, while he was profoundly deaf.

This fast-paced, inspiring, and easy-to-understand play is accompanied by Beethoven's powerful music.

Factual and compelling, Beethoven's story is moving and unforgettable.

Performed in the same style as The Life of Mozart, this play is specially designed for the K-6 age group.

The Sword in the Stone
A young boy liberates his destiny.
Young Wart stumbles upon an unusual friend: a
memorable and beloved old sorcerer named Merlin.
With Merlin's guidance, he is astonished to discover
that he is the only person in the kingdom who can
pull an embedded sword from it's massive stone
pedestal: The legendary blade, Excalibur.
Little does he know that he will grow up to become
the just, ethical, and admired King Arthur!


Click here to download
a printable version of this page.